After the birth of our second child, my husband and I struggled. Our relationship got harder as the demands on our time multiplied. During this time, we learned a "secret" that was part of what transformed our relationship.
This remarkable idea was that each person feels and expresses love primarily in one or more of five different ways. I would clean our house and make a nice meal to show that I loved him. But what he needed was to hear my affirmation. He would say something positive about me and I would thank him and feel appreciated. But I didn't return the affirmation and I secretly wanted him to be helping me more with the dishes. We were missing each other. It was a formula for both of us feeling like we weren't very connected, wanting to be and not knowing how to get there.
Discovering the Five Love Languages made all the difference. It helped us to both begin to feel loved again. We learned how to express love in a way our spouse could easily receive it. We also worked together to figure out ways we could spend more time with each other, even with the demands of parenting two children. And in the midst of it, we both grew and learned to receive love in multiple ways.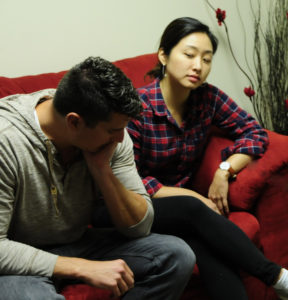 If you're parenting alone or with your partner, discovering love languages could be one step to help you. Learning your primary love language, and the love languages of your current or future partner, could be a tool to make your relationship and parenting work.
The Five Primary Love Languages that were made popular by Gary Chapman, based on earlier research, are:
Words of Affirmation – If words of affirmation is your primary love language, you feel most loved when someone tells you things like, "I love you" or "You look great today!" or "I'm so glad to have you as a friend." The words are so significant.
Acts of Service – Actions speak louder than words if your primary love language is acts of service. It is incredibly meaningful and speaks love to you when someone does your laundry or takes out the garbage.
Receiving Gifts – Some people feel most loved when someone gives them a gift. Gifts can be as simple and inexpensive as a wildflower picked along the roadside, a handmade card or a candy bar. What matters is the love behind the gift.
Quality Time – If your primary love language is quality time, what matters most to you is when the person you love spends time with you. You crave his or her undivided attention. You can do activities that you both enjoy, like going hiking or playing tennis. What's important is that you both know you're doing it to be together, not to become world class tennis players.
Physical Touch – A pat on the shoulder, a hug or having your special someone reach out to hold your hand speak volumes of love to the person whose primary love language is physical touch. The physical contact is of supreme importance and speaks love beyond words.
Want to learn more about the Five Love Languages or ready to discover yours? 5lovelanguages.com has a quick assessment, free of charge, to help you discover your primary love language. There are also information and resources to help.
Whether you are in a relationship now or wanting to start your next relationship off on the right track, give it a try. Learning your love language, and being able to discover the love language of your partner, could be an important step toward having a great relationship!
Después del nacimiento de nuestro segundo hijo, fue difícil para mi esposo y para mí. Nuestra relación se hizo más difícil según se multiplicaban nuestras demandas de tiempo. Durante este tiempo, aprendimos un "secreto" que fue parte de lo que transformó nuestra relación.
Esta  notable idea fue que, cada persona siente y expresa el amor, principalmente en uno (o más) maneras diferentes. Para mí, limpiar nuestra casa y hacer una rica comida era una manera de mostrarle que le amo. Pero lo que él necesitaba era escuchar mis palabras de afirmación. El diría algo positivo sobre mí y yo le daría las gracias y me sentiría apreciada. Pero yo no le di esa afirmación y en realidad lo que quería es que me ayudara más lavando los platos. Nos estábamos perdiendo el uno al otro. Era como una fórmula para ambos, sentir que no estábamos conectados, lo que queríamos y no saber cómo llegar a ello.
Descubrir los Cinco Lenguajes del Amor hizo la diferencia. Nos ayudó a los dos a volver a sentir amor otra vez. Aprendimos cómo expresar amor de una manera que el otro pudiera fácilmente recibirlo. También trabajamos juntos en buscar maneras de pasar más tiempo juntos, incluso con las exigencias de estar criando dos niños. Y en medio de esto, los dos crecimos y aprendimos a recibir amor de diferentes maneras.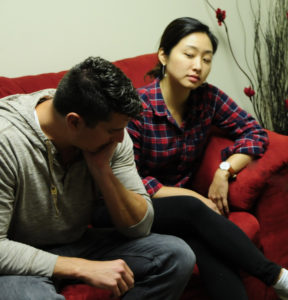 Si estás criando a tus hijos sólo o con tu pareja, descubrir los lenguajes del amor podría ser un paso que te ayude. Conocer tu lenguaje del amor y el de tu pareja o futura pareja, podría ser una herramienta para tu relación y tu funcion como padre.
Los Cinco Lenguajes del Amor que se han hecho populares por Gary Chapman, basados en investigaciones, son:
Palabras de Afirmación – Si palabras de afirmación es tu principal lenguaje del amor, te sientes más amado cuando alguien te dice comas como "te quiero" o "te ves muy bien hoy" o "estoy muy contenta de tenerte como amigo". Las palabras significan mucho.
Acciones de servicio – Acciones hablan más alto que las palabras si tu principal lenguaje del amor es actos de servicio. Es increíblemente significativo y te demuestra amor cuando alguien lava la ropa o saca la basura.
Recibir Regalos – Algunas personas se sienten muy amados cuando alguien les hace regalos. Los regalos puedes ser sencillos y nada caros como, una flor arrancada del camino, una tarjeta hecha a mano o un dulce. Lo que importa es el amor tras cada regalo.
Tiempo de Calidad – Si tu principal lenguaje del amor es tiempo de calidad, lo que más te importa es cuando la persona que amas pasa tiempo contigo. Ansias toda su atención. Puedes hacer actividades que los dos disfrutáis, como ir de paseo o jugar al tenis. Lo que importa es que los dos sabéis que lo hacéis por estar juntos, no para convertiros en jugadores de tenis.
Contacto Físico – Un toque en el hombro, un abrazo, que aquel que amas te agarre de la mano, son muestras de amor para aquella persona cuyo primer lenguaje del amor es el contacto físico. El contacto físico es de suprema importancia y habla más allá de las palabras.
¿Quieres aprender más sobre los Cinco Lenguajes del Amor o quieres descubrir los tuyos? 5lovelanguages.com tiene una evaluación rápida, es gratis, ayuda a descubrir tu lenguaje del amor. También hay información y recursos de ayuda.

Ya sea que estés en una relación o quieras comenzar tu próxima relación en el camino correcto, pruébalo. Aprender tu lenguaje de amor, y ser capaz de descubrir el lenguaje de amor de tu pareja, podría ser un paso importante para tener una excelente relación.

Tags: