A nurse is available to take your call from 9 to 5 pm M – Th and 9-3 PM on Fridays. We are here to help. 608-259-1605
Important Covid-19 Coronavirus Update
In an effort to respond proactively to the coronavirus outbreak and to serve our community responsibly, First Care Clinic will be limiting our operations. Effective Tuesday, March 17, First Care Clinic will make the following changes and will reevaluate based on recommendations from public health officials at the local, state and federal levels:
We are temporarily suspending all mobile clinic operations. We will not be providing any educational appointments until further notice. We will be adjusting our hours of operation. Resource appointments can be conducted via phone as necessary.
We are not accepting walk-in appointments until further notice. All patients wishing to make an appointment should call 608-259-1605. All patients will be screened, and a nurse will evaluate patients to determine if an appointment is medically necessary. Patient appointments will be made as determined by our nursing staff.
Thank you for your understanding as we take precautions to provide the safest possible care for patients and staff. If you have any questions or concerns, please call us 608-259-1605. We are here to help.
We're Here to Help
Do you have questions about First Care Clinic? Would you like an appointment?
Please contact us using the form below or text us at 608-259-1605. We'll get back to you during normal business hours by phone, email or text. Let us know which you prefer.
If you need a pregnancy test and don't have an appointment, we welcome walk-ins and will see you as soon as we can.
Address
1350 MacArthur Rd.
Madison, WI 53714
All Mobile Operations have been canceled until further notice.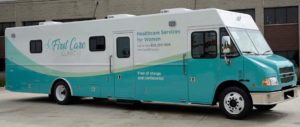 Sun Prairie:
Sunshine Place
1632 W. Main St.0 notifications
Sun Prairie, WI 53590
Appointments on Thursdays beginning October 31. 
Fitchburg:
2924 Fish Hatchery Rd.
Fitchburg, WI 53713
Appointments on Tuesdays beginning October 29.