We're Here to Help
Do you have questions about First Care Clinic? Would you like an appointment?
Please contact us using the form below or text us at 608-259-1605. We'll get back to you during normal business hours by phone, email or text. Let us know which you prefer.
If you need a pregnancy test and don't have an appointment, we welcome walk-ins and will see you as soon as we can.
Address
1350 MacArthur Rd.
Madison, WI 53714
We have a new mobile unit!  You can find our mobile unit at the following locations: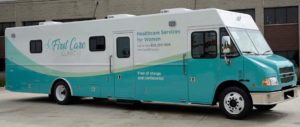 Sun Prairie:
Sunshine Place
1632 W. Main St.0 notifications
Sun Prairie, WI 53590
Appointments on Thursdays beginning October 31. 
Fitchburg:
2924 Fish Hatchery Rd.
Fitchburg, WI 53713
Appointments on Tuesdays beginning October 29.